Harnessing the Power of Words
Local Elementary and Middle School Students Engage in Springboards to Education's Read A Million Words Campaign
by: Elvia Estimbo, Educator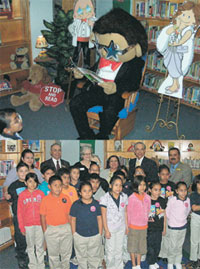 Two years ago Springboards to Education launched a revolutionary motivational reading program entitled Springboards to Education's Read A Million Words Campaign. the goal of this program is to entice and motivate students to become avid readers and present them with a cornucopia of reads from across the genres. Research indicates that independent reading significantly improves a student's reading comprehension and vocabulary and boosts student success throughout the content areas.
It also serves an important affective purpose; that is, to develop a lifelong appreciation for reading for pleasure and information.
Recent research indicates that the volumes of reading also affects general cognitive development. This year, hundreds of local students have become word millionaires or reached their own personal reading goals. Springboards to Education and local school district officials are hoping to encourage even more children to read!
Springboards to Education's Read A Million Words Campaign drew national attention when Congressman Ruben Hinojasa agreed to challenge all of the Rio Grande Valley students and school districts to read a million words. The Edinburg Consolidated Independent School District has taken the challenge to heart by enlisting all of the elementary and middle school campuses into Springboards to Education's Read A Million Words Campaign.
ECISD recognized and understands that a student's time spent reading books is the best predictor for student success. "We are significantly improving a student's vocabulary and reading comprehension through reading practice, but our primary goal is to foster a life-long love of reading in all students," states Liza M. Garza, Library Services Supervisor for the Edinburg Consolidated Independent School District.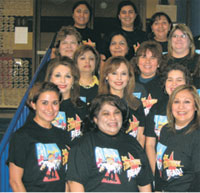 "Springboards to Education's Millionaire's Reading Club has helped propel reading throughout the district and impacted the full comprehension levels of all students by setting a district wide incentive program that encourages students to reach their individual reading goals," states Elvia Estimbo, a 7th grade ELA teacher.
Students from all over the district have expressed such interest in challenging themselves into making their goal a reality. Over at Harwell and B.L. Garza Middle Schools, many students are well on their way towards successfully becoming a part of the Millionaire's Reading Club. Leading the Read A Million Words Campaign is Bravo, the Star Struck Reader. Students of all ages enjoy the motivation level and aura that becoming a Star Struck Reader entails.
"Implementing the Millionaire's Reading Club on my campus has done nothing short of motivating the kids to read more. they've set goals and have challenged each other to reach them, regardless of who does it first. Knowing that Bravo, the Read a Million Words Campaign mascot, will make a red carpet appearance and all the bells and whistles that come along with reaching a million words, has prompted the kids even more toward reaching their goal," says Sally Hartman, B.L. Garza Middle School Librarian.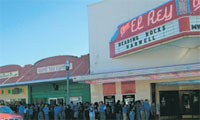 Local businesses have also shown their interest and support with helping instill the love of reading in young learners throughout the Valley. Espana Mediterranean Cuisine, Dairy Queen, KGBT Channel 4, All Valley Limousine Service and Cine El Rey are helping to take the millionaire's club to the next level. Those students who attain the grandeur of success are inducted into the Millionaire's Club in style, with the experience of walking the red carpet, decked out in their red carpet attire, presented with their certificates and trophies and then whisked away via limo to Espana Mediterranean Cuisine for a lesson on etiquette and a full four course meal, millionaire style!
"Finally a reading campaign that is fun, effective, and geared towards producing avid readers. We are proud to see so many of our students accomplish their reading goals!" states Carmen Gonzalez, Edinburg CISD School Board President.